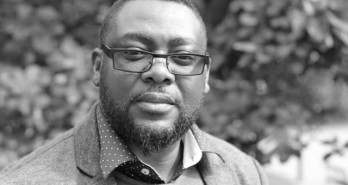 To work for a better world can be done in several ways. To prevent terrorist and extremists recruiting young people to become "soldiers" is one thing you can do, another is to help child soldiers away from the crime zones to a "normal" life. 
I met Felix the first time in may 2013, when a former creative product development CEO saw a future business idea. Over a Swedish dinner of Älggryta (elk meat stew) that we cooked together, we all discussed just this very issue, and how to set up a company with the aim to train and educate former child soldiers by giving them a valuable craftsman education, where the concept came from Felix experience worldwide in this very area.
Felix Unogwu is an expert in both preventing extremist groups from recruiting young people and to rehabilitate former child soldier! With his own background as an immigrant and searching for an identity in a new country, he had learn much of the problems by own experience! Felix was born in central Nigeria, in the zone between the Muslims in the North and the Christians in the South, by a Catholic mother and Muslim father. He arrived alone to Sweden at age 17 and then got a M.Sc in Political Science and an advanced degree in Conflict Resolution in University of Massachusetts, Boston. In the Boston, Felix worked with coalition of groups to help institute Universal Health Care, a process that required lobbying several state Senators and including the Governor of the State Mitt Romney. In Washington, DC Felix worked with several groups to analyze and influence policies concerning the use of child soldiers around the world.
For many years he commuted between Sweden, the United States and 22 countries in Africa, where he works for the organization Search for Common Ground. The stories about what the child soldiers has experienced is cruel beyond comprehension. In the movie "Blood Never Dries" he and his colleagues describes how children are forced to bite other people to death, make roadblocks of human intestines and kill friends with a knife.
Since 2014 Felix has been working for Open Skåne, an organisation that works to create inclusive societies by organizing meetings and honest discussion between groups such as politicians, cooperate institutions, government agencies, religious and secular groups. Open Skåne is also working on creating a joint holistic project with government agencies that will not only help reduce recruitment  of young militants but will also rehabilitate former child soldiers.
"-Police and Security Service cannot take care of the young. Which authority is responsible? What is our common responsibility? Today there is no systematic plan, but no one should be able to return to Sweden and just go home."
Modern War
Modern war is frequently fought by young people, as they are more easily brainwashed by politicians or groups. Typical examples of this are the wars in Liberia, Sierra Leone, Nepal and Syria where young people are used to provide support for armed actors. They are recruited to be combatants and instilled with the values of hate and the mechanics of violence.
The riots in many European countries demonstrate youth's capacity to destroy: for example, the London riot in 2011 and in Sweden in 2013. In both instances young people went on a rampage burning houses and cars, looted stores and clashed with the police.
Charlie Hebdo and Boko Haram
If the society, in all countries, had have the knowledge how to act, then we probably not had faced the terror acts like "Charlie Hebdo" in Paris or other horrible acts such as Boko Haram in Nigeria.
What we need to understand is why young people so easily is recruited to become "heroes" or rather terrorists. In Sweden, far from todays war zones, have between 200 and 300 Swedish young people travelled abroad to fight for, among others, the Islamic State. Felix means that the recruiters are very good to get young people to feel safe and be seen, and they often act in areas with serious social problems.
"Soldier recruitment going on here and now! When a calm and clever boy suddenly traveling abroad to war, one must understand why. Many young people with foreign backgrounds do not feel completely accepted in Sweden. It's all about identity, and if they young connect to wrong raw-model – the problem comes quickly" 
How to help a child soldier?
Felix has met hundreds of child soldiers – young children who are forced to kill their family or their friends and teenage girls who have been raped and become "box wives" to the soldiers of Boko Haram.
"- In Europe, no one is prepared to take on young soldiers returning from war in the same way as in other parts of the world. When the Swedish young soldiers coming back, they can't just return to their regular lives."
Felix has encountered little girls been warriors of Boko Haram in the same manner as suicide bomb attacks in Nigeria.
"- Boko Haram uses the girls in various ways, either as warriors or as "field wives". Many of the girls have lived with the soldiers for many years and have no weapons, so when countries offer amnesty against the Warriors submitting their weapons can girls do not attend. They are often pregnant, HIV-infected and have nowhere to go."
Often the young soldiers called brainwashed, but you have to understand why it happens in order to reintegrate them into society.
"- One must assume what the person has the skills and utilize them – not close the door to what has been. A teenager who had been in command of 20 people can be an excellent youth leader and a benefit for the whole society. We call it the 90 degree shift. You take the knowledge the teenager have from the war to help them forward.2
What and How can I as citizen help?
There are no immediate ways to help at this time as we still developing partnerships but for information you may contact:
Anders Cederberg, anders.cederberg@iuvare.se , +46 703 116864
Felix Unogwu, felix.unogwu@iuvare.se , +46 769 410725
See the film "Blood Never Dry" made by Felix and his co-workers, and I guarantee you will think more than once on this unbelievably cruelty.