Ondule was born in the context of a call for VIA projects (Enhancement of Innovation in Furniture) at the French schools of design, to create a piece of furniture. Selected and financed by the VIA, I realized this prototype which then joined the exhibition " VIA / Les écoles " in Paris in July, 2011. Pulled over a solid base and taking up again the principle of the padding, a skin is fixed point by point to its support adopting a predefined weft. In search of a furniture publisher, today I continue to develop a more complete range and perfect the Ondule texture to make it become a slipcover.
+ Stemming from reflections upon the universe of audiovisual, and more generally upon digital technology, this project is inspired by some strong images which emanate from it. How to make this virtual world pass into the material world and the universe of textures, or how to evoke a livened up surface by means of the supple material?
Echoing pixels, I integrated the notion of weft into this work. Then, the notions of sound wave and frequency came to feed the project.
A skin then came to cover the seat. This work of quilting gave birth to a surface that seems to liven up and follow undulations.
The texture, consisting of foam doubled by 3D textile of the Kvadrat brand, becomes dynamic and brings a relief to the surface which catches and reflects light everywhere on the seat. The initial reference to the digital technology then lets appear an organic aesthetic, that the material revealed.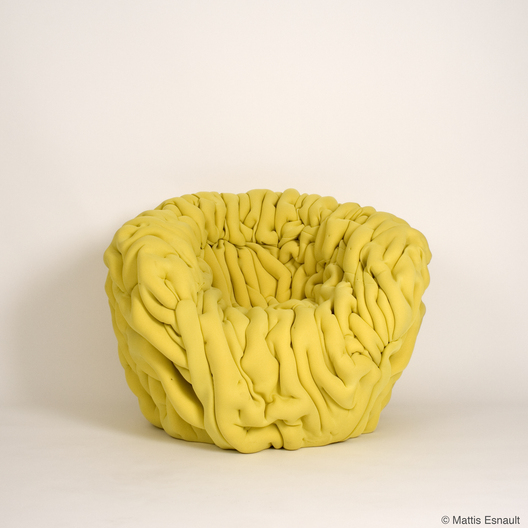 Description
After the getting of interior designer's title in "l'Institut Supérieur des Arts Appliqués" (LISAA) in 2010, I follow my studies in the "Ecole Européenne Supérieur d'Art de Bretagne" (EESAB), where I acquired a DNAP design option and currently prepare my Graduation Project.
I develop a research which questions status of objects, often inert outwardly and subjected to the human needs. In extension of the work undertaken with Ondule project, my reflection concerns a redefining of object, to emphasize a living and dynamic character of it. In this exploration, I adopt a specific point of view in which the movement as well as the material, especially in liquid state, take a substantial importance.
It is also essential for me to support the idea that the function can result of the shape. This brings me to plunge into plastic experiments and invent systems into which multiplicity, movement, mixing, interaction, torsion or tension are all founding concepts that overlap. I attach as much importance to these experiments as drawings of objects I design. It is by questioning the potential and characteristics of the materials that I find the matter to draw my plans.